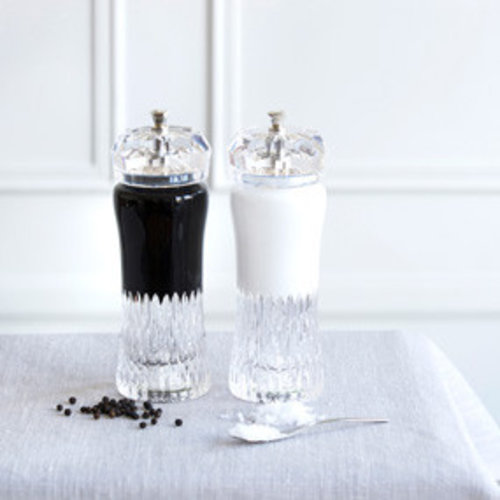 The Limited Edition of luxury crystal salt and pepper grinders with silver
Gurasu Exclusive infuses classic elegance, bold color and innovative design, accented with precious stones and metals for a new generation of crystalware.
The Exclusive collection of salt and pepper grinders, designed by Gurasu's Creative Director, Joanna Maya, is hand-worked in the Bohemia region of Czech Republic. In Scotland, silver is individually poured using a traditional casting technique, hand polished, and finally hallmarked in Edinburgh as a sign of quality in materials and craftsmanship.
A hexagonal motif appears throughout, mirroring multiple perfectly cut facets, reflecting light and adding a classic texture to a modern, elegant shape. The striking lines are complemented by a traditional clear crystal or offset in monochromic black and white, or ruby and royal blue. Finishing each grinder is a sterling silver topper, designed by acclaimed silversmith and artist Hamish Dobbie.