Two weeks ago, we announced that Gurasu Crystal sponsored the Amphitrite Trophy for GP14 Sailing World Championship.
Set up in a small and picturesque village called Marazion in Cownwall, close to the Land's End, the World Championships took place from 28th July to 2nd August in Mount's Bay. The location was stunning. The charming St. Michael's Mount was the best location from where you could watched all races.
Gurasu designed, handcrafted and donated the crystal trophy for the awards' ceremony which was handed out at the Awards night to the 1st Placed Female Crew. The winner was Melanie Morris from the Royal St George Yacht Club.
The design process of our crystal trophy
Among number of crystals studios, we decided to work with the one that had the best expertise in making statement pieces from the highest quality, 24% lead crystal.
Meticulously designed, beautifully cut, hand engraved with elegant lettering, the crystal was transformed into the modern, elegant vase.
The trophy had to represent the woman's ethos and style. When you look at it, the piece supposed to bring to your mind the strength and elegance of a female nature. At the same time, it had to be unique and surprising. Finally, it had to represent Gurasu design aesthetics - a synergy between the past as present. Joanna Maya, Gurasu founder and creative director
Joanna continues: "The trophy was called Amphitrite. In ancient Greek mythology Amphitrite was a sea goddess, wife of Poseidon and the queen of the sea. She became merely the consort of Poseidon and was further diminished by poets to a symbolic representation of the sea.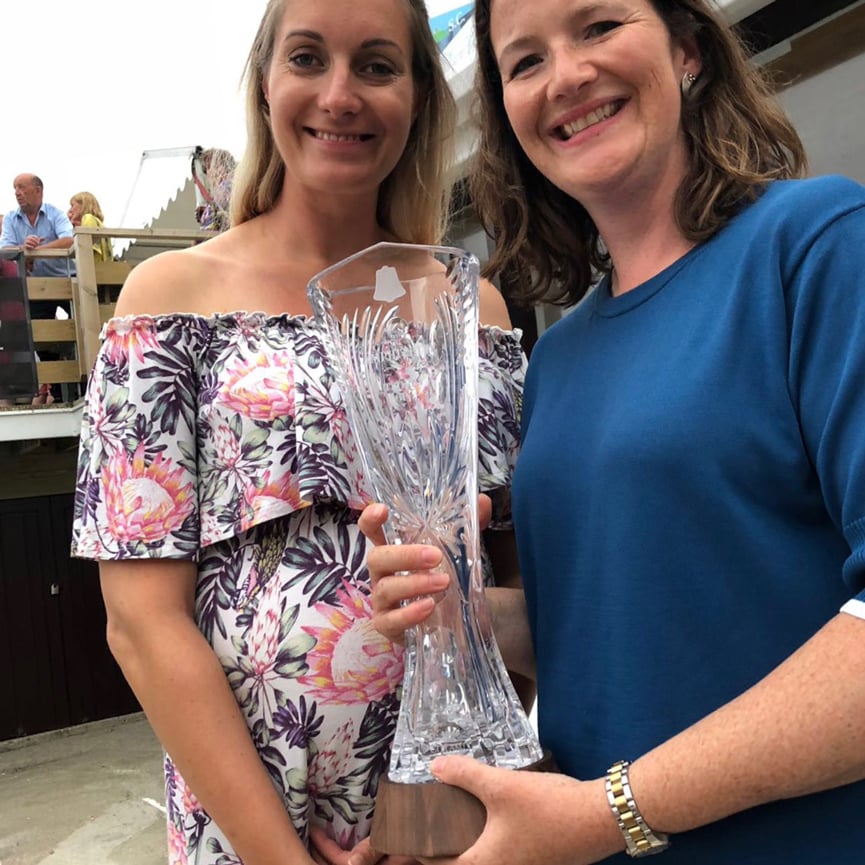 And here I designed the trophy for the woman who had a desire and stamina to, equally to her male competitors, work hard and play hard to achieve her best in World Championships. I was truly honored to donate this trophy.
The making process of Gurasu crystal trophy
The Amphitrite trophy was hand worked in Bohemia region of the Czech Republic and hand finished in England. Three specialist craftsmen worked for 18 hours to achieve the perfect shape in crystal, cut and clarity prior to the pieces being lavishly lustered and finished with deep cuts and hand-engraving.
The wooden stand was handcrafted by the local craftsman, polished and engraved with Gurasu logo.
Joanna: We've had a fantastic feedback and the trophy was praised for its look and the weight by both the committee and by the winner herself.