How to create a stylish lighting installation?
"In modern architecture, lighting fixtures always served as the jewels, adding refinement and emotion to interiors. Their forms and luminosity bring out the essence of each space." BOMMA Creative Directors.
Lighting is one of the most overlooked and yet important elements of good interior design. After all, there is little point in creating luxury surroundings if they cannot then be appreciated properly or if there is insufficient light to be able to carry out even the most basic of tasks.  In addition though, lighting is also essential in terms of creating the mood and ambience of a living space, so getting it right from the start is vital.
The first (and arguably most important) lighting option to consider is natural light. Natural light is perfect light; it truthfully reflects colours and illuminates creativity. You can enhance your natural light by considering creating larger windows, inserting skylights, and by placing mirrors opposite a natural light source (this trick will also make the room feel bigger than it actually is!).
Once you've looked at the natural light in a room you can then have a think about practical / task and creative lighting options. Your options are plentiful, and include ceiling spotlights, ceiling pendant lights, chandeliers, floor lights, table lamps, wall lights, desk lights, LED, and candlelight. Each of these serves a different purpose and which ones you choose will be dictated by what you want to achieve with your room, for example, if your room has been designed around one key piece of artwork, then you'll want to have a spotlight illuminating that piece, or if you want a room that's a statement then a cluster of pendant lamps or perhaps hanging chandelier.
Of course, getting the lighting right in a luxury design scheme isn't just about where lights are placed or how strong or bright they are.  The light fittings and lamps themselves are an element of the overall design and, when chosen to fit perfectly with the style of the room, they have the potential to give life to the space.
For you to have more choice across lighting, we have now introduced the new collection designed in collaboration with Bomma. If you have never heard or seen their designs, here are a couple of sentences to talk you thought who they are.
Bomma lighting is one of the leading Czech lighting manufacturers that celebrates artisan craftsmanship, innovative technology and puts heavy focus on contemporary design. The company prides itself by using its own cutting machines, tools and techniques. All of their products are manufactured locally in the Czech Republic with the designs of the most respected and award winning local designers and design studios.
Among the most popular Bomma lighting designs which include Soap, TIM and Phenomena pendant lamps, I am delighted to introduce three new additions to the collections Gurasu Crystal sell in the UK.
Orbital stands for "Crossing galactic paths"
Orbital paths of multicolored celestial bodies with hypnotically glowing cores. This ingenious design of hand-blown glass lenses, held together by a metal mounting, creates a fascinating visual experience from different angles.
Umbra – "There is no shadow without light"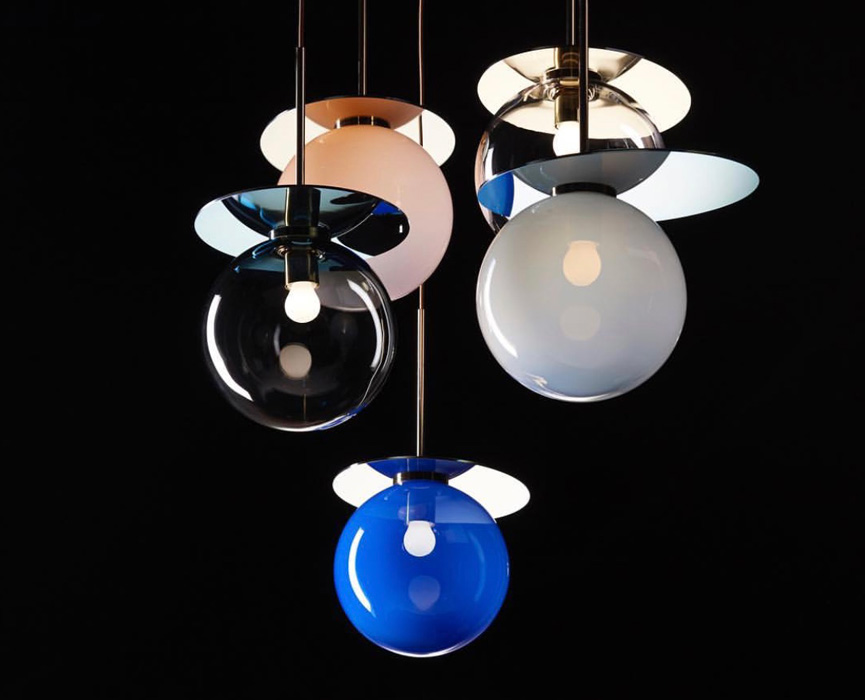 Inspired by the relationship between geometric objects and their shadows, the Umbra collection features elegant pendants in sophisticated detail. Its metal plate derives from the perfectly elliptical shadow cast by a side-lit ball, mirroring the colourful mouth-blown crystal piece.
dark & bright star is the analogy to the endless duel of light and darkness.
Like distant stars, these seemingly small lighted objects are powerful in both their design and craft. The light source is placed within a mouth-blown piece, the shining centre of a precisely cut crystal star. Unique as a solitaire and even stronger in constellations.
My favourite, and at the same time, best selling SOAP collection gives a different vibe. Designed by Ota Svoboda the collection of pendants comes in three colours: silver, blue and amber gold. Therefore, varying colours, transparency and continuous changes of shape make them very unique. You might have already guessed that the inspiration for this outstanding collection comes from soap bubbles. Each piece is hand-blown while no moulds are used as well as each varies in its shape and colour.
To shop our crystal glass lamps follow the link to our Pendant Lamps page.
For more information on how to create stylish lighting visit this page.